September 6, 2017, Dayton, OH – Prime Controls, a world-leading manufacturer of sensors and controls for the can making, automotive, appliance and other metal forming industries, is pleased to announce the unveiling of their newest product, the TriSense SD230, which expands on their current world-leading Double Shell and Missing Tab Detection Control offerings for high-speed EOE Conversion Presses.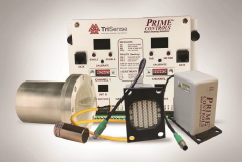 TriSense SD230 Detector
The TriSense SD230 system controls three functions in one package: double shell detection, missing tab detection and end light leak detection. By integrating our proven light technology system (models LH200 and SL100) with our double shell and missing tab detector, operators can run and manage all three functions at the same time through one control. Due to this 3-in-1 approach, TriSense SD230 provides customers with significant cost savings. In addition to being cost effective, TriSense SD230 is also simple to use. With only one controller for three separate functions, TriSense SD230 is easier to install, run and manage while offering operators access to more data than ever before. Troubleshooting is streamlined as all data comes from one controller. Spare parts are also available on demand. No long lead times.
"We aren't new to light leak detection. We have decades of experience and hundreds of our detectors installed worldwide utilizing our proven light leak technology," said Beth Graves, president of Prime Controls. "Nearly every can end in the world has been inspected by one of our double shell and missing tab detectors. All of the best EOE Press manufacturers use our products. We've been focused on creating a solution that brings that expertise and product quality together into one system, making it cost effective and simpler to manage for our customers, as they continue to look for more ways to reduce cost."
Technology is at the forefront of TriSense SD230. It presents customers with a more robust, user-interface compared to other products and its ET230 Communications Gateway delivers customers access to data and allows them to make changes on the fly or remotely without accessing the controls in the enclosure.
"We are extremely excited about the launch of the TriSense SD230. It's a product that was created from customer feedback and insight, what our company prides itself on." states Graves. "We are eager to introduce this product to the canmaking industry where the need for reliable and efficient detectors are essential," continues Graves.
TriSense SD230 is available now for all new conversion press builds along with retrofits for existing systems. Contact Prime Controls or your preferred EOE Press manufacturer for more details.
Prime Controls, Inc., located in Dayton, Ohio USA was founded in 1992 and today, is the world's foremost Double Metal Sheet Detector supplier, providing products and services to the can making, automotive, appliance and other automated sheet metal industries. A Prime Controls detector has inspected virtually every food and beverage can in the world, with a pull-tab end. Prime Controls is committed to the development of new products with the most advanced technology available. We value each and every one of our customers and strive to provide solutions that meet their needs.
For more information, please contact:
Prime Controls, Inc.
4528 Gateway Circle
Dayton Ohio, 45440 USA
Phone: 1-937-435-8659
Fax: 1-937-435-6375
vip@primecontrols.com
www.primecontrols.com